Here's a double release of art projects geared towards new(ish?) users/discoverers of Linux and the Ubuntu distribution.
Ubunchu chapter 8 typeset by me took a year (lol, I had no schedule and it was very on-off, next time I'll schedule it properly so I don't forget what I was doing). It's my first official type-setting/translation manga release, hope you like it. =) I was going to try and perfect it but because the project dragged on so long I thought I should just try and quickly push it out and release/ship it.
Ubunchu is about a school club in a Japanese high school which is tinkering with Ubuntu.
Read the whole series
(and a better synopsis) here:
ubunchu.net
My latest release (ch8):
on google drive - zip of PNGs (click File -> Download)
,
Getting to work on an open sourced manga/project like this one is pretty nice. Especially without having to clean 'scans' using levelling, and other more sophisticated techniques. xP All of it was done in
GIMP
which is open source and is also available on windows due to GTK magic (but it feels nicer on my Kubuntu). I've never used photoshop properly (to a certain extent) but I can say GIMP is competitively advanced and has nice plugins too. Mostly used
Blambot
's fonts - free for non-commercial use.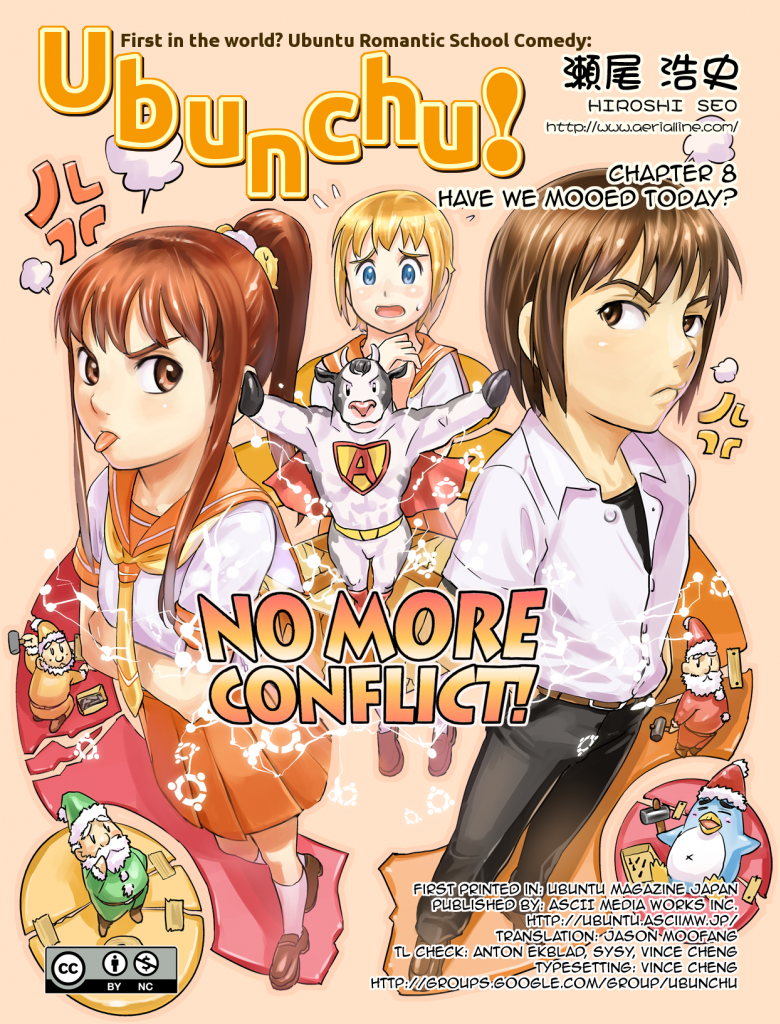 Also would be nice to get a Wacom tablet/ergonomic mouse/
SteamController
(check out
this demo vid!
), I get RSI with at least my index finger when using conventional mice. Currently use a trackball for everyday use, but gets annoying since it doesn't have a scroll wheel. Steam controller definitely looks promising since my HKD20 PS-like controller definitely has bad resolution, and I don't imagine my PS controllers or the XBox ones will be much better. Although having fond memories of my Saitek joystick (which is so old it used a serial or parallel connection), I might use that for Star Citizen, although I'll have to test the Steam Controller first, like how I tested the OR. Which reminds me, Oculus Rift post coming soon =)
[Linux is complete with gaming rant]
With Valve's
SteamOS
,
Steam on Linux
and Source, Unity, Unreal game Engines being native on Linux as well as
CryEngine soon
, games seem to be moving en-masse to the Linux OS. This is welcome news, since gaming, and atm, only one particular game (
Star Citizen
, which has gained 4mil in crowdfunding since I last blogged about last month - 1.5mil of which was from the last 4 days) is the only thing holding me back from never booting Windows on my laptop. It's on CryEngine 3, so can't wait for that to build natively for Linux.
We've got Dota 2,
KSP
, Guns of Icarus Online, L4D2, TF2, X-series and an increasing amount of games, indie and big-publisher alike natively on Linux already or coming. I find if I'm looking at a game purchase/Humble Bundle, availability is a deciding factor. These next few years will be very interesting for Linux =)
[/rant]
Here's the PSA (it's related to Ubunchu ch.8), sad to say I learnt this the hard way one too many times:
_____________________________________________________________________________________________
Came across an interesting
blenderguru post
about why and how Blender's UI is broken and the principles of making good UI, how Blender can be fixed. The folks who made Unity should have a look =P [Sincerely, KDE/XFCE user]
UPDATE: Blenderguru made a video with suggestions, here it is!
=)